CD Reviews
Subliminal Leaps
The exchange on the opener shows that the saxophonists did not need much time to get acquainted. The unusual marriage (of baritone and soprano saxes) bears some impressive fruit on this outstanding new album.
~ Alain Drouot, Downbeat
Liebman and Evans work hand in glove – the synergy moves the music into an engaging realm and newly discovered idiom.
~ Brent Black, @CriticalJazz
Baritone sax savant Charles Evans is really good at taming this brash, acerbic horn and transforming it into a conduit of emotion and musical purpose. It's remarkable how Evans can at times sound like Liebman and blend in so well with him.
~ S. Victor Aaron, somethingelsereviews.com
Gripping session that is equally parts chamber jazz and avant-garde. Serene in the way that a gently rippling pond can soothe the soul, and fearful in the way you can't help but wonder what monstrosity creating those ripples is lying just below the surface of that water.
~ Dave Sumner, emusic.com
Only one word is needed to describe the character of Charles Evans: selfless; caring only for the music, not its grandiose illusions that so many musicians tend to get lost in. His most recent release, Subliminal Leaps is more than a phenomenal recording, it is a vivid display of his honed precision and harmonic mastery.
Nick Abitia, soundcolourvibration.com
Live At Saint Stephens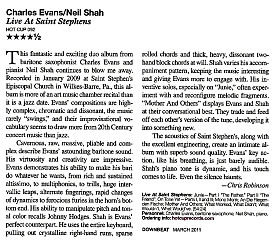 This fantastic and exciting duo album from baritone saxophonist Charles Evans and Pianist Neil Shah continues to blow me away. Recorded in January 2009 at Saint Stephen's Episcopal Church in Wilkes-Barre, Pa., this albums is more of an art music chamber recital than it is a jazz date. Evans' compositions are highly complex, chromatic and dissonant, the music rarely "swings," and their improvisational vocabulary seems to draw more from 20th Century concert music than jazz.
← Click the image to read the full review.
~ Downbeat Magazine, 4 1/2 STARS
Together, Evans and Shah create an intense and intimate dialogue that is able to reach outside the realms of the ordinary. What remains is music of almost otherworldly beauty that both references and transcends the room in which it was played. Not only an artifact, a souvenir of a long forgotten event, Live at St. Stephens is a timeless work of art.
~ Jakob Baekgaard, All About Jazz
Live At St. Stephen's from Hot Cup Records links the domains of the bizarre with the aesthetics of traditional jazz and kneads them to make an extraordinary creation.
~ Susan Frances, JAZZTIMES
It takes enormous responsibility, courage, character and a certain mad dash to create and perform music that is only partially composed, often merely suggested and certainly played from one idea to the next. For Evans and Shah to do so with such seamless magnificence is certainly a pleasure. It is almost as if the two musicians had an otherworldly, fundamental, and almost umbilical connection.
~ Raul D'Gama Rose, All About Jazz
Charles Evans is bearing the torch of continuity that has been passed on from those that went before, but he also adds new colors to the flame. Highly recommended.
~ Grego Applegate Edwards, Cadence Magazine
This absolutely gorgeous album — is a lock for one of the best of 2009 in any style of music. Baritone sax player Charles Evans uses the entirety of his instrument, not just the low registers. He can make it sing, like Gerry Mulligan, but with more imagination.
~ DeLarue, Lucid Culture
King Of All Instruments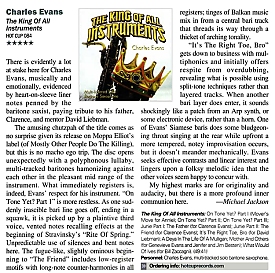 There is evidently a lot at stake here for Charles Evans, musically and emotionally, evidenced by heart-on-the-sleeve liner notes penned by the baritone saxist, paying tribute to his father, Clarence, and mentor David Liebman. My highest marks are for originality and audacity, but there is a more profound inner communion here.
← Click image to read the full review.
~ M. Jackson, Downbeat Magazine, 5 STARS
The future of the baritone saxophone, March 10, 2009. Charles Evans has everything he needs to become the next great baritone sax player in creative improv."
Greg Taylor (Portland, Oregon United States)
The best overdubbed sax recording I've heard since Giuffre's wonderful FOUR BROTHERS . . . Evans shows stunning tone individually and overall. I've never heard baritone sound like this in an ensemble. Evans baritone is a widely attuned instrument of nuance.
~ Grego Applegate Edwards, Cadence Magazine
"Rarely does a CD come along as intensely personal and ambitious as Charles Evans' The King of All Instruments. it sounds like the culmination of a life's work. The difference here is that Evans is just getting started."
~ Jeff Stockton, All About Jazz
"Charles Evans' artistic mission is focused upon the achievement of near-perfection on the baritone saxophone, reputing the other members of the same instrumental family as children of a lesser god.
A difficult test passed with flying colors — The King Of All Instruments."
~ Massimo Ricci
"The instrument in question is the mighty baritone sax. Evans turns into a quartet, chamber group or bari-choir through judicious overdubbing on this intermittently amazing solo recording."
~ Phil Johnson, Independent.Co.UK Arts & Entertainent
"He certainly makes his case well for the (often neglected) baritone. If you want to hear what's in Evans soul, wrenched out through his gut and breathing apparatus, this will be the ticket! Charles digs down deep on the baritone and pulls out all the stops for you — I don't think I've ever heard more honest playing."
~ Rotcod Zzaj
"Solo baritone sax as endorsed by Dave Liebman and John Surman with the spirit of Coltrane in the grooves, in a good way. There's a lot going on here for the specialist that really wants to get lost in the sound of an up and coming master that will blow away any listener that knows how to get in this head space. A hard set to describe to the uninitiated, nascent hipster, this is completely wild stuff that separates the tourists from the purists."
~ Chris Spector Midwest Record
"As you can hear in "Junie Part 1: The Father (for Clarence Evans)," a dedication to the artist's father, Evans is dead serious about getting the most out of his regal horn. Hypnotic and, in spots, powerfully creepy, it's a singular statement from a composer who conceals profound art beneath gimmicky trappings."
~ Hank Shteamer, March 5th, 2009 Time Out New York
"Evans is clearly a master of his instrument, coaxing out notes, textures and ranges not often heard from the bari. He hits many altissimo notes that most bari players wouldn't try, and the multi-layered effect brings depth to the self-penned tunes. For saxophiles Evans's work is jaw-dropping." Hot Cup Records, 2008, 51:00.
~ Kyle O'Brien
"CHARLES EVANS – The King of All Instruments (Hot Cup 84; USA) Amazing solo effort featuring Charles Evans on multi-layered baritone saxes. It is hard to believe that we are hearing just bari(tone) saxes as they are played orchestrally in layers. This disc is indeed a true treasure and must for all baritone sax fans as well as other serious listeners."
~ Bruce Lee Gallanter, Downtown Music Gallery
"In Charles Evans' hands, the baritone saxophone is truly capable of creating works of art that mesmerize audiences. Evans' works allude to an unorthodox style of artistry with multiple orbits and poly-chordal forms all moving at different rates of speed and along different paths very similarly to the planets of our Solar System. In a way, Evans captures the movements of the planets and their satellites in his compositions." The King of All Instruments, Charles Evans | Hot Cup Records (2009)
~ Susan Frances, jazzreview.com
No Relation
New Yorker Charles Evans – a student of Dave Liebman – is a vehement baritone player; Peter Evans (no relation) is a fiery and daring trumpeter. The saxophonist and trumpeter reserve the right to startle with unorthodox virtuosity.
~ Julian Cowley, THE WIRE
There you go . . . a young bright baritone player who doesn't want to imitate anybody and dares to tread on dangerous waters. His name is Charles Evans. The many slopes of Evans urge to prod his New York based band to a resonant denotation on No Relation.
~ Dr. Ana Isabel Ordonez, www.jazzreview.com
As the title could suggest, no blood relation exists between the Evanses, but LOTS of relations are instantly audible as far as ingenious playing is concerned. The interaction between Charles Evans' baritone sax (he's a stunning virtuoso with irony to spare) and Peter Evans' trumpet is such that one can sustain long minutes of microtonal nuances and unpredictable mental processes without any strain, feeling the buzz of an energy that is certainly not too common among today's jazz groups. This project spells "advanced communication", representing a perfect antidote against the frigidity of many current composers — jazz or non-jazz.
~ Massimo Ricci, www.touchingextremes.org
It Needs It
Really enjoyed your record man – Great trumpet player and r section – you are BURNING!!
~ David Liebman
Everything is secondary to the power of the music encased within the disc. To adequately describe it one would have to invent some new adjectives. The closest musician playing anything on the big horn would be heard in the most adventurous Hamiet Bluiett from back in his India Navigation days or one of his rave-ups with James Carter. Maybe like Pepper Adams on acid but not quite. This young man is onto something and he means to get to the bottom of it. Hold onto your hat.
~ Larry Hollis, Cadence Magazine April 2006
Ballads
Even though Evans previously recorded with his Free-Jazz quartet, now he has tackled the sometimes difficult challenge of interpreting ballads with sufficient sensitivity to reach the listener's emotions and with still enough originality to claim the music, frequently played by others, as his own.
Evans' tone on baritone sax is light, and he stays mostly in the upper register, the instrument being more melodic than growling, even though Evans does drop often into the lower register during cadenzas. With graceful command of his instrument, Evans seems to have arrived from out of the blue.
Evans' performance is sensitive and advanced as it remains within the themes, and the moods, he establishes, even as he avoids the pitfall of many younger musicians who try to include widely divergent work on their early recording efforts. Having studied with Dave Liebman, Evans shows the potential for wider recognition in the future.
~ Bill Donaldson, Cadence Magazine March 2006
New York based jazz bari player Charles Evans combines consummately all the viable & polyphonic, areas of the saxophone genre. His playing style however, culminates in the evocative character of his musical presentation. In a word, his bari playing is extremely distinctive. His rendition of the Ellington-esque standard "Chelsea Bridge" was fluid & expansive so as to evoke respect for his academically earned technical prowess. Evans' artistry is warm & relaxed, & emerges from the same rhythmic mold as a Gerry Mulligan. His unique style will by default protect him from any influences so as to dilute his originality.
~ George W. Carroll, The Musicians' Ombudsman, www.eJazzNews.com
Baritone saxophone player Charles Evans is a new artist on the scene and a welcome discovery. You might think this is another standards album by the new kid on the block to show off his chops. However, Ballads reveals Charles Evans as talented musician and composer, not just another sax-wielding wunderkind. Evans' tone is warm and breathy. He plays in the upper registers of his instrument, sounding a lot more like a tenor than baritone at times. Still, an underlying trace of throaty growl and plenty of excursions into the instruments lower registers assured me I was listening to a baritone saxophone. Perhaps one of the major jazz labels will add Evans to their roster so he gets the recognition and distribution he deserves.
~ Paul Oberlin, www.jazzreview.com