Charles Evans/Neil Shah Duo
Charles Evans
~ Baritone Saxophone
Neil Shah
~ Piano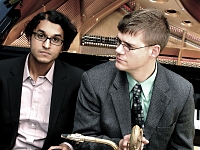 (from right to left)
After meeting ironically at a basketball camp in the 8th grade, Charles Evans and Neil Shah both attended The University of the Arts in Philadelphia, where they rapidly advanced their musical talents. Ten years later, they find themselves reunited in NYC with a fresh approach; ballad and introspective playing using dense, 20th century classical harmonies as well as jazz and free-jazz influences.
One technique implemented by the Charles Evans/Neil Shah duo is economy of improvisation over dense poly-chords. Despite stated jazz influences and predecessors, this music is genre nonspecific and often avoids employing the traditional jazz vocabulary. The combination of jazz harmonies (albeit in poly-chordal form) 20th century classical techniques and free improvisation demonstrate the duo's refusal to limit themselves and allow Evans' compositions to be pidgeon-holed. Poly-chords, traditionally non-programmatic, are presented by Shah with the subtlest dynamic, creating a sonic landscape that drips with genuine introspective love. Evans' role in the dialog is a mastery of the difficult altissimo register of the baritone, utilizing a large tone and wide vibrato. This is countered with the use of freely associated triads and chromatic lines in polyphonic improvisation. Quarter-tones, notes existing between the traditional 12-note temperament, can be heard via Evans' baritone quite often, in both improvisation and composition. The listener may even catch strict 12-tone writing supplied by Evans, countered by masterful tonal piano cadenzas improvised by Shah.
In live performance, the duo provides an intense and impassioned experience. Often, the listener is haunted by a delicate chromatic piece, bringing to mind the expressionists of the 20th century. Both have a soft spot for sentimentality and introspection, and these attributes are clearly expressed in their delivery on their chosen instruments. Having said this, the variety of the Charles Evans/Neil Shah duo could just as easily remind the listener of the innovations of the David Liebman/Richard Beirach duo, and/or the free improvisations of Evan Parker, Anthony Braxton, Keith Jarrett, and the late period of John Coltrane.