The Language Of
Charles Evans
~ Baritone Saxophone
Jan Roth
~ Drums
Moppa Elliott
~ Bass
Peter Evans
~ Trumpet
(from left to right)
The music of the Language Of alternates between microtonal contra-facts and free-jazz compositions. Both horn players are intensely interested in the technical possibilities of their respective instruments, producing compositions and improvisations that require virtuosic execution. Solos often combine elements of the bebop tradition and extended instrumental techniques nearly simultaneously. These adventures are accompanied by a swinging but highly interactive rhythm section. The Language Of has two CD's to their name, It Needs It, (2005) and No Relation (2006). Their latest showcases their concept of sharing the compositional role and exploiting the possiblities of unrelated, inconsistent material. They accomplish this through the use of free-jazz and new complexity supplied by Peter and micro-tonal bebop and tradition from Charles.
". . . maybe no relation but they play together like brothers". ~ Larry Hollis, (unaware of new CD title), review of "It Needs It," Cadence Magazine, April 2006.
Sharing the compositional workload, the Evans Brothers (no relation) utilize vastly different writing styles to generate their music. Charles uses micro-tones and chromatic lines, along with staccato, rapid, and out-of-time unrelated explosions involving extended techniques, multiphonics, and extreme register changes, to produce his unusual contra-facts. These are written and played over an existing standard tune. The titles are usually found through the use of his substitutionary, humorous language of.
Peter Evans' music contradicts and collapses on itself; he is a master of pyrotechnics undermined by virtuosic extended technique.
Peter engages in complex, Post-Braxton rhythmic ideas to instruct the entire band to execute independent cross-rhythms. His compositions are not "based-on" Charles' chosen standards, but are rather simply "inspired" by the original. This means that his work would not exist without the classic standard. Unlike Charles' approach, the harmonic foundation of the standard is indecipherable. In summary, Chevans' tunes involve the bebop tradition more then Pevans', which are closely related to the classic free-jazz era.
Below are two examples of the Evans Brothers' unrelated compositional approaches. Click on each image to see a larger view.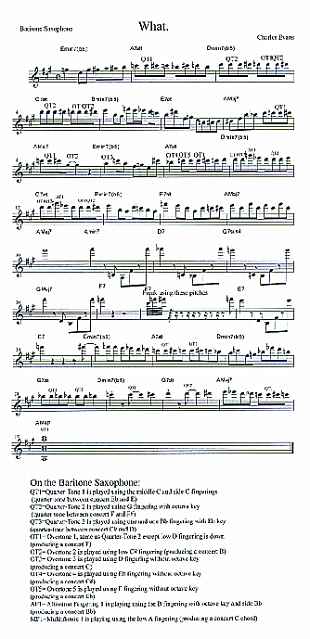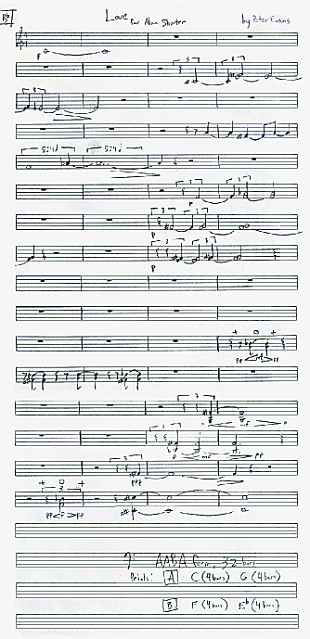 "I always loved the trumpet/baritone combination. When I began hanging with Peter, I began to think about music in completely different ways. He was somewhat jarring to listen to at first . . . I can honestly say I didn't get him. But I knew this guy was after something very special and powerful, and I wanted to figure it out. This guy was in his early twenties and playing more trumpet then I've ever heard. At the time, it was a combination of intimidation and honor when we played. I can truly say he's my second biggest influence, right behind Liebman."
Peter brought Charles into the world of free-jazz, Anthony Braxton, and the great European improvisers, such as Evan Parker. Charles began experimenting with multiphonics and extended techniques following Peter's cue. Improvisationally, the two horn players,as well as Moppa Elliott on bass, experiment with clear bebop vocabulary and 60's free-jazz "freak-out" vocabulary. They utilize a "light-switch" bebop approach ("Art Bop," as Andrew Bain puts it), meaning that echoes of Charlie Parker can be immediately undermined by interjections of Evan Parker (no relation). At any given time, serious bebop could be mocked by Post-Randolphian hoke and/or extended instrumental techniques. This contradicts the rhythm sections down-the-middle, swinging accompaniment.
In live performance, The Language Of puts a light-hearted touch to a short, but varied, musics' past. Their love and seriousness of many types of jazz and improvised music is apparent when they play. In between tunes, the Evans Brothers (no relation) have a tendency to mock each others' instrumental prowess, as well as poke fun at common, post-modern 50's retro jazz lingo. The Language Of is a truly serious artistic calling, with just a touch of wholesome humor.